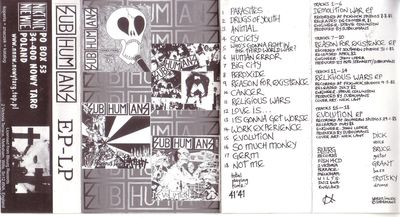 Sabía que había dos bandas con el nombre de sub humans, una en canadá y esta inglesa, lo que me a sorprendido es que la da canadá es anterior (1978).
Subhumans se formaron en 1980 en in the Warminster and Melksham (Wiltshire), y si no me equivoco siguen activos, incluso ahora estan de gira, ya veis 32 años de anarcopunk. aunque no creo que hayan sido del tiron.
Su discografía segun la wikipedia es:
Demolition War (1981) - EP
Reasons for Existence (1982) - EP
Religious Wars' (1982) - EP
Wessex '82 (1982) (split with the Pagans, Organized Chaos and the A Heads) - EP
Evolution (1983) - EP
Time Flies... but Aeroplanes Crash (1983) - EP
The Day the Country Died (1983)
From the Cradle to the Grave (1983)
Rats (1984) - EP
Worlds Apart (1985)
29:29 Split Vision (1986)
Unfinished Business (1998) - EP
Unfinished Business (1998)
Live in a Dive (2004)
Internal Riot (2007).
Aparte dos compilaciones, Time Flies + Rats (1990) y este ep - lp de 1985, donde incluían cuatro de sus primeros ep's: Demolition War,Reasons for Existence, Religious Wars y Evolution. Esta versión ec k7 es de nuevo de nikt nic nie wie.