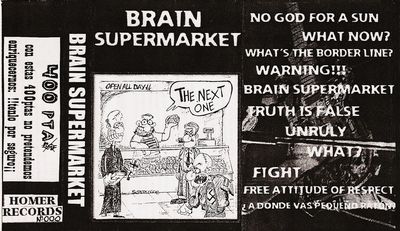 Segundo de tres ficheros que me mandó Vomito hace ya la tira, y que me había dejado en el cajon. BRAIN SUPERMARKET era un grupo de Navia (Asturias) que hacían Hardcore melodico (sonido californiano??). la mejor presentación, ellos mismos en su myspace:
Brain Supermarket fueron una banda de hardcore punk de Navia (Asturias), practicantes de un sonido old school a lo Black Flag, Minor Threat o Bad Religion, que fue incorporando influencias psicodélicas y surf de los Dead Kennedys, todo bien batido con un cachondeo político que ofendía a más de un mojigat@ y cacique. Se formaron en verano de 1996 con Jose G. Carrera (Xplosiv Joint, Will, Replica) a la guitarra, Carlos Serrano "Charlie" a voz, Jorge González "Torero" al bajo y Pedro a la batería. A los pocos meses Jose abandona la formación para concentrarse en sus otros grupos, y la banda cae en un silencio que es roto a mediados de 1997, cuando Brain Supermarket incluye en su formación a Sergio (del grupo punk Incorregibles Hijos del Zar) como guitarrista. El 28 de agosto de 1997, Brain Supermarket dan su primer concierto. Poco después graban su primera y única maqueta, "The Next One", que sería editada por el sello naviego Homer Records. A finales de 1997, Pedro abandona el grupo a causa del servicio militar, y es sustituido por Edu, también batería en Los Incorregibles Hijos del Zar. Así, Brain Supermarket va dando sucesivos conciertos junto a Incorregibles Hijos del Zar, Growing Up, Xplosiv Joint, Replica o The Barflies, alternando épocas de actividad con otras de hibernación. En invierno de 1999 Charlie se une a los ovetenses Hipercore como vocalista. En verano del mismo año Jorge "Torero" anuncia sus deseos de abandonar el grupo, pero retorna para dar el que sería el último concierto en la historia de Brain Supermarket, el 14 de agosto de 1999 en El Triciclo de Navia. Actualmente, algunos miembros de Brain Supermarket siguen en activo en bandas como The Black Panthys Party o Anticonceptivas.
Truco esparrago reedito en cd todos los trabajos de BRAIN SUPERMARKET en un cd titulado La Leyenda Del Vividor - Grabaciones 1997-1999, contiene la maqueta "The Next One", publicada en 1998, así como cuatro temas inéditos que poca gente ha tenido la oportunidad de escuchar hasta ahora. A eso se añaden dos temas en directo de 1998, y gran parte de su última actuación en agosto de 1999, un concierto inesperado y totalmente reivindicable pese a que, avisamos, la calidad del sonido es meramente testimonial. Como bonus, la única banda que ha versioneado a Brain Supermarket y ha tenido la desfachatez de plasmarlo en disco: The Black Panthys Party.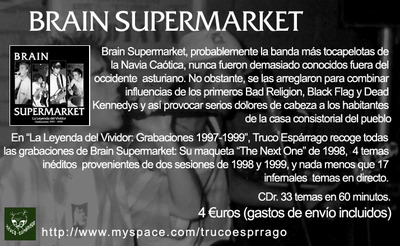 http://www.myspace.com/brainpunk